"Don't touch that dial." That familiar broadcasting statement certainly applies to the markets these days, as some upcoming news could lead to big decisions. Read on for details.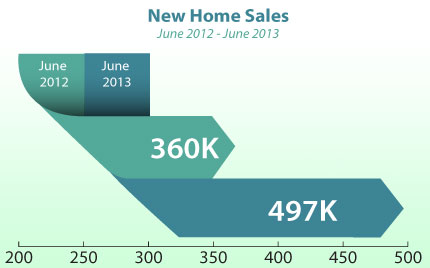 There was news on the housing front as New Home Sales surged by 8.3 percent in June to 497,000. New Home Sales are up a whopping 38 percent since June of 2012, the largest annual increase since 1992. It's important to note that New Home Sales in May were revised lower to 459,000 from 476,000, while Existing Home Sales came in weaker than expected, down 1.2 percent from May to June.

In other economic news, Weekly Initial Jobless Claims rose by 7,000 in the latest week to 343,000, above expectations. Meanwhile, Durable Goods Orders, which are orders for items that last for an extended period of time, had an upside surprise, surging by 4.2 percent in June, well above expectations. And consumers are still feeling positive, as Consumer Sentiment came in at 85.1, higher than expected.

What does all of this mean for home loan rates? It's important to remember two things. First, home loan rates are tied to Mortgage Bonds, meaning that as Bonds improve, home loan rates improve. Second, the Fed has been purchasing Bonds and Treasuries at the rate of $85 billion a month since late last year, via their Quantitative Easing (QE) program. But as the housing and labor markets have begun to improve, there has been talk that the Fed should taper its purchases soon. The uncertainty surrounding this decision has caused volatility in the markets.

Some of this uncertainty may come to an end this week. The Fed's next two-day meeting of the Federal Open Market Committee begins Tuesday, with the monetary policy statement set to be released Wednesday at 2:00 p.m. ET. The statement will be closely watched around the globe for any signs that the Fed will begin tapering its Bond purchases–or if the members feel that tapering should be put off until 2014. If inflation starts to rise and economic reports continue to be strong, the Fed could consider tapering its Bond purchases sooner rather than later. Whether this will cause Bonds to worsen, leading to higher home loan rates–and how much higher–remains to be seen.

The bottom line is that home loan rates remain attractive compared to historical levels and now remains a great time to consider a home purchase or refinance. 
The calendar is full this week, with news on housing, manufacturing and the all-important Jobs Report for July.
Economic reports kick right off on Monday with Pending Home Sales, followed by the S&P/Case Shiller Home Price Index on Tuesday.
Tuesday also brings the Consumer Confidence Report.
A plethora of data will be released on Wednesday, including Gross Domestic Product (GDP) and the ADP Private Employment Report.
In the manufacturing sector, look for Chicago PMI on Wednesday and the ISM Index on Thursday.
As usual, Weekly Initial Jobless Claims will be reported on Thursday.
And despite the long list of reports, they will take a backseat to the July Non-farm Payrolls Report and the Unemployment Rate, set to be delivered on Friday.
Also on Friday, inflation data from Personal Consumption Expenditures will be released, along with Personal Income and Personal Spending.
In addition, Wednesday will be an important day as the Fed's monetary policy statement from its FOMC meeting is set to be released at 2:00 p.m. ET. This always has the potential to move the markets.
Remember: Weak economic news normally causes money to flow out of Stocks and into Bonds, helping Bonds and home loan rates improve, while strong economic news normally has the opposite result. The chart below shows Mortgage Backed Securities (MBS), which are the type of Bond that home loan rates are based on.
When you see these Bond prices moving higher, it means home loan rates are improving — and when they are moving lower, home loan rates are getting worse.
To go one step further — a red "candle" means that MBS worsened during the day, while a green "candle" means MBS improved during the day. Depending on how dramatic the changes were on any given day, this can cause rate changes throughout the day, as well as on the rate sheets we start with each morning.
As you can see in the chart below, Bonds have attempted to rally above key technical levels. I'll continue to monitor their movement closely, especially in the heavy news week ahead.
Chart: Fannie Mae 3.5% Mortgage Bond (Friday Jul 26, 2013)
Economic Calendar for the Week of July 29 – August 02
| | | | | | | | |
| --- | --- | --- | --- | --- | --- | --- | --- |
| Date | ET | Economic Report | For | Estimate | Actual | Prior | Impact |
| Mon. July 29 | 10:00 | Pending Home Sales | Jun | NA | | 6.7% | Moderate |
| Tue. July 30 | 09:00 | S&P/Case-Shiller Home Price Index | May | NA | | 12.1% | Moderate |
| Tue. July 30 | 10:00 | Consumer Confidence | Jul | NA | | 81.4 | Moderate |
| Wed. July 31 | 08:15 | ADP National Employment Report | Jul | NA | | 188K | HIGH |
| Wed. July 31 | 08:30 | Gross Domestic Product (GDP) | Q2 | NA | | 1.8% | Moderate |
| Wed. July 31 | 09:45 | Chicago PMI | Jul | NA | | 51.6 | HIGH |
| Wed. July 31 | 02:00 | FOMC Meeting | Jul | NA | | NA | HIGH |
| Thu. August 01 | 08:30 | Jobless Claims (Initial) | 7/27 | NA | | NA | Moderate |
| Thu. August 01 | 10:00 | ISM Index | Jul | NA | | 50.9 | HIGH |
| Fri. August 02 | 08:30 | Non-farm Payrolls | Jul | NA | | 195K | HIGH |
| Fri. August 02 | 08:30 | Unemployment Rate | Jul | NA | | 7.6% | HIGH |
| Fri. August 02 | 08:30 | Hourly Earnings | Jul | NA | | 0.4% | HIGH |
| Fri. August 02 | 08:30 | Average Work Week | Jul | NA | | 34.5 | HIGH |
| Fri. August 02 | 08:30 | Personal Income | Jul | NA | | 0.5% | Moderate |
| Fri. August 02 | 08:30 | Personal Spending | Jun | NA | | 0.5% | Moderate |
| Fri. August 02 | 08:30 | Personal Consumption Expenditures and Core PCE | Jun | NA | | 0.1% | HIGH |
| Fri. August 02 | 08:30 | Personal Consumption Expenditures and Core PCE | Jun | NA | | 1.1% | HIGH |