"Let's give them something to talk about." Bonnie Raitt. And there was plenty to talk about last week, with the Fed meeting and full economic calendar. Read on for details.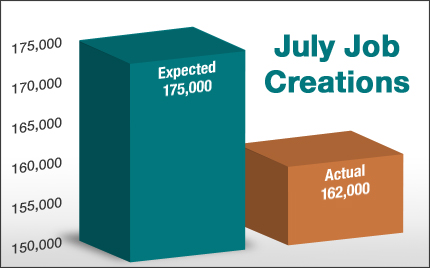 The Jobs Report for July is in and 162,000 jobs were created, below the 175,000 expected. Estimates had ranged up to 224,000 job creations. Meanwhile the numbers for May and June were revised lower by 26,000. The Unemployment Rate fell to 7.4 percent, while the Labor Force Participation Rate was little changed at 63.4 percent. The LFPR calculation is quite simple. If you are 16 years old and not in the military, then you either have a job or you don't. The ratio of people "participating" or working is then compared to the total population.
The big takeaway is that this report is in line with an economy growing at sub 2 percent. It also supports the Fed's decision, announced earlier in the week, to continue its Bond purchases at the rate of $85 billion a month. The Fed said the rate of their purchases will continue to depend on economic data, and could be increased or decreased accordingly. The Fed also noted that the U.S. economy expanded at just a modest pace during the first half of the year. The previous statement suggested the economy was expanding at a "moderate" pace.
In housing news, the Case Shiller 20-city Home Price Index saw its biggest annual gain since March 2006, rising 12.2 percent from May 2012 to May 2013. The data supports a recovering housing sector. And Personal Consumption Expenditures came in at 0.2 percent, in line with estimates, showing that inflation remains tame.
What does this mean for home loan rates? At the end of the day, the Fed does not want home loan rates to rise any further. As it stated last week regarding the continued purchasing of Treasury and Mortgage Backed Securities, "taken together, these actions should maintain downward pressure on longer-term interest rates, support mortgage markets, and help to make broader financial conditions more accommodative."
*Courtesy of Jodi White, Summit Mortgage